What Type of Water Mitigation is Necessary for New Providence Homes After a Pipe Burst?
9/13/2021 (Permalink)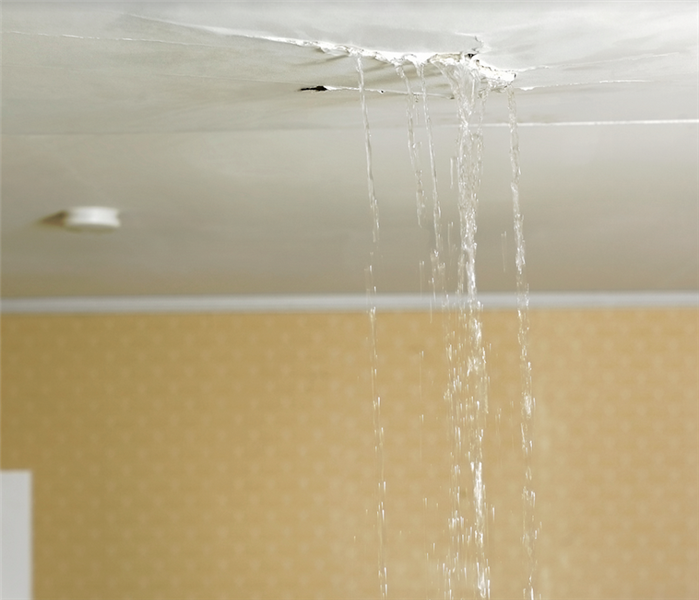 When a pipe bursts in your home, the situation can be quite unexpected. Contact SERVPRO right away to remediate the water damage in your home.
SERVPRO Helps Extract Moisture, Remove Deteriorated Materials and Perform Water Damage Repairs as Needed in New Providence Properties
Look up. You may only see areas here and there where pipes run through the ceiling of your New Providence property, but the ceiling in most rooms is a major hub for the plumbing in your home. And it is a good idea to inspect all areas of your home, including the ceilings, for signs of water damage.

Handling water mitigation on a New Providence ceiling leak can present additional challenges, such as the effect of gravity on the water damage incident. The weight of the moisture within a ceiling means as the sheetrock gets saturated and deteriorates from the water, it can also fall and cause injury. SERVPRO advises homeowners to avoid areas in their property with sagging ceilings.
SERVPRO technicians have significant training in handling all types of damage from water in homes and working safely when the issue emanates from a ceiling. The technicians can use their equipment to identify how widespread the wicking of the moisture is within the ceiling and how much needs to get removed to make the room safe. Only the damaged portions get removed; the rest will get dried and left intact to lessen the cost of replacing the building materials in the home. The water restoration training of technicians enables them to:
Identify potential safety issues
Sort items in the room to identify salvageable articles
Remove musty water odors
Apply proactive treatments against mold growth
A ceiling leak requires prioritization of the restoration services. Even though the same actions get taken, each job is diverse, with challenges unique to the property getting assistance. SERVPRO techs ascertain the building materials affected and prioritize the steps needed for the best outcome. Some tasks may require more urgency because hesitating can lead to additional damages that can cost property owners more money to repair in the future. A core part of the training the techs receive is learning to identify what to prioritize. For instance, if a ceiling leak affects wood floorboards in a home, water extraction becomes the most critical application during the water restoration service.

With the assistance of SERVPRO of Western Union County
P: (908) 791-9177, homeowners in New Providence can have confidence in the water mitigation services performed, and the trained techs are available 24/7.