Will the Type of Water Damage Increase the Loss?
7/26/2020 (Permalink)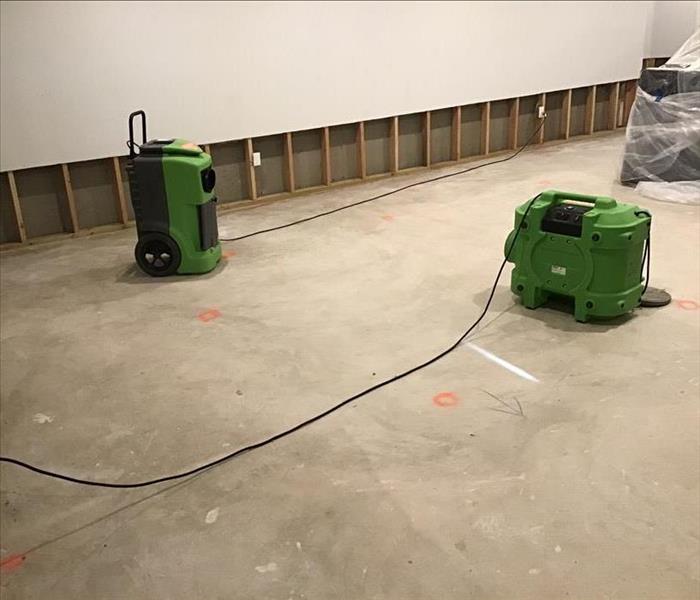 SERVPRO uses advanced equipment and controlled demolition to restore flood-damaged New Providence properties
SERVPRO Has the Skilled Water Restoration Technicians Necessary to Limit Loss to Your New Providence Property
Once you have water damage in your New Providence home, property drying is just part of the reason to call a highly-trained restoration team. Not all losses are the same when looking at water infiltration. Various kinds of water can bring on different results. SERVPRO features technicians trained via the Institute of Inspection, Cleaning, and Restoration Certification (IICRC) to handle any water situation you may face.
What are the Unique Categories of Water Damage?
When handling your need for water restoration in New Providence, our team breaks down water damage into several categories. Due to the variations in water types, trained restoration technicians have the skill necessary to adjust accordingly. This makes water damage restoration preferred over DIY methods alone. These unique classes are categorized based on contamination levels from different water source:
Clean Water – Category 1
By itself, category one water does not pose a significant health threat to humans or pets. This is water stemming from sanitary, clean sources. However, even though the water is clean directly from the source, this type of water damage is not without risk. Without proper extraction and drying measures, there is the potential for mold and mildew growth. Additionally, any clean water event can transform into a Category 2 even when it is left to degrade for too long. Various sources of clean water will include:
Showerheads
Faucets
Waterlines
Drinking fountains or bubblers
Gray Water – Category 2
With gray water, there is the potential for health risks for humans and pets. However, the threat is generally not overly significant or life-threatening. When Category 2 water sources are involved with your water damage, various biological, physical, or chemical contaminants are within. These elements are known for causing discomfort or potential illness should the water be consumed or with prolonged exposure. Various sources of gray water include:
Stagnant or uncleaned Category 1 water
Failed sump pumps
Seepage
Toilet water without the presence of fecal matter
Washing machine or dishwasher discharge
Industry guidelines for black water describe it as being extremely unsanitary. Category 3 water contaminants are harmful and can lead to moderate to severe illness with exposure or ingestion. This is why this water contamination level must only be handled by highly-trained technicians that use property sanitation and safety techniques. Various sources of black water include:
Stagnant or uncleaned Category 2 water
Toilet water that contains fecal matter
Seawater
Sewage
Groundwater containing chemicals, pesticides, and organic matter
Our team works to distinguish the type of water present within your home when we arrive at the job site. We take this information and formulate a plan to handle the water damage to minimize the risks to human health. It is vital that homeowners always remain aware of both Category 2 and Category 3 water due to the possible health concerns. Regardless of the water source, our skilled water restoration technicians (WRT) here at SERVPRO can start the cleanup and drying process to help minimize the impact on your health and your property.
What Can Skilled Restoration Help With?
There are many causes for water damage, each of which we are prepared to address when called for restoration services. Some of the issues that we cover include:
Frozen pipes
Leaking pipes
Burst pipes
Basement flooding
Storm damage
Moisture left after a fire loss event
Appliance failure, and more
With our water restoration expertise and our step-by-step approach to cleanup and drying, we can restore your interior to get back to preloss conditions faster than DIY methods alone. Just a quick phone call will deploy our Green Fleet to your property within four hours or less to begin the assessment process. The benefits of calling our team includes:
Immediate response times
Detailed water damage evaluation
Specialized procedures for cleaning and drying
Moisture monitoring and reporting
Controlled demolition
Full deodorization and sanitization
Follow-up visits to ensure relative humidity is at the appropriate level
You should know that the most common insurance claim from homeowners will be water damage related. Many homeowners will experience some moisture damage to their property within their lifetime of ownership. SERVPRO is Faster to Any Size Disaster, and our technicians are ready to handle your water damage needs. We have technicians standing by to get to work 24/7 for emergency service to limit the loss and return to life as usual.
Do you want to know more about how we can help with your water restoration needs? Call SERVPRO of Western Union County at (908) 791-9177, and we can send out a team. Once our crew chief puts a plan into action, the results will make it "Like it never even happened."