Do I Have to Wait to Start Cleaning Up After a Fire in New Providence?
5/31/2020 (Permalink)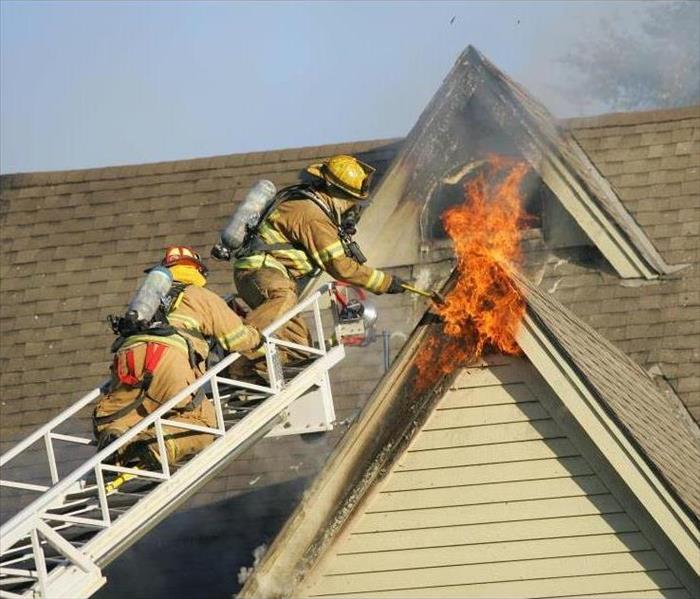 Make sure that your home is safe to re-enter after a fire and then contact SERVPRO for remediation services. We are here 24/7.
SERVPRO Arrives Quick When Called to Your New Providence Home to Tackle Your Fire Damage Restoration Needs
While it is sometimes tempting to start in on the cleanup in New Providence immediately, it is essential to wait until first responders deem your structure safe. SERVPRO wants you to know that we can be at your location quickly so that we can handle the assessment and planning to restore your home to the preloss condition. Our crew acts fast so that you can get back to your routine faster than DIY methods alone. Additionally, the professional service and advanced techniques that we bring to each project ensure your interior is just "Like it never even happened."
The Fire is Extinguished, Now What?
You can call us at SERVPRO 24 hours a day, seven days a week, when you need help with fire damage in New Providence. Our emergency restoration crew arrives promptly and mindfully assesses your interior while taking note of damage, debris, and airborne threats. We have the technology that DIY cleanup efforts cannot touch, including tried-and-true planning that allows us to tackle each obstacle that comes our way. Early mitigation is essential to limit the onset of secondary damage while also inhibiting hazardous effects from odors and mold growth.
Why Do I Need to Call the Professionals?
SERVPRO features highly-trained IICRC-certified technicians that pay attention to detail when it comes to fire damage restoration. Soot and smoke residue, as well as moisture from extinguishing the fire, gets into small crevices and cracks that the untrained eye often overlooks. We remove all debris and damaged materials in New Providence so that the restoration and replacement may commence. We put together a detailed plan for restoration using our best technology and resources, including:
Pack Out services, including meticulous logging of all belongings, for cleaning off-site at our facility
Careful removal of soot and smoke residue from all surfaces using wet or dry cleaning methods helps to inhibit corrosion
Trained technicians clean walls, ceilings, and other impacted surfaces
Structural inspection to ensure total safety
Controlled demolition, when necessary to remove damaged materials and replace with new
Can I Use Some DIY Methods for Cleaning After the Fire?
With charred debris, stubborn soot, and pesky soot particles, it is best to leave the cleanup to trained professionals. Do-it-yourself cleaning often hinders the process and may lead to unnecessary secondary damage. Professional intervention following a fire helps to address a variety of issues:
Portions of a structure after a fire must be assessed to determine stability, such as ceilings, floors, and walls.
Toxicity is a concern due to the fire and residue left after a fire loss. We come in with personal protective equipment (PPE) to ensure the safety of our crew while also limiting the spread of debris throughout your home.
Water or chemicals used to extinguish the fire may be in abundance when we arrive for mitigation. We address this immediately using extraction techniques and advanced technology, thus speeding up the restoration.
Cleaning agents or methods used to clean soot and smoke residue varies depending on the materials burned in the fire. Our team is made up of technicians trained following the standards set forth by the Institute of Inspection, Cleaning, and Restoration Certification (IICRC) to tackle any size or scope fire loss.
EPA-registered cleaning products and disinfectants help ensure your interior is clean and safe for you and your family to enjoy once again.
What Restoration and Cleaning Methods are Used to Treat Fire Damage?
Our technicians know that each restoration project is unique, so we treat it as such. We craft a plan that best suits the needs of your home and the nature of the fire. During our assessment, both dry and wet cleaning methods are often put into various steps.

Wet: This cleaning method is excellent on hard surfaces and materials not damaged easily by water. Our crew might use water mixed with specialized cleaning agents that help to strip away the soot and smoke, which leaves the surface below refreshed and clean. We also have ultrasonic machines that use an aqueous solution of water, softener, and mild detergent. Using high-frequency sound waves, the pressure creates thousands of bubbles that help to loosen stubborn grime safely.
Dry: This cleaning method helps address materials otherwise easily damaged with wet cleaning methods. We take a look at your books, antiques, electronics, and porous items and use brushes, towels, or sponges to loosen the residue and soot until your items are clean.
When you call on SERVPRO of Western Union County to help with fire damage, you may rest assured in knowing that your home is in excellent hands. Call (908) 791-9177 to have a trained crew deployed to your location to start the assessment process. We can be reached 24/7 for emergency cleanup and restoration.