Our Crews Are Ready 24/7 To Assist You With Your Scotch Plains Flood Damage
10/19/2019 (Permalink)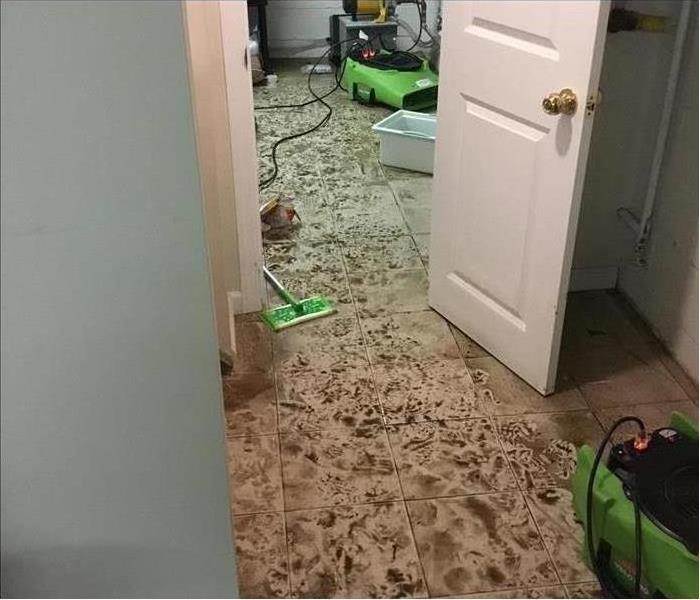 This client was surprised with how quickly and efficiently we were able to clean up the debris and water and get her basement back after flood damage.
Receding Waters Do Not Mean the End to Flood Damage in Scotch Plains
Heavy rains can bring flash flooding to Scotch Plains. Although the vast quantities of water flowing over pavement during and after a storm briefly make travel difficult, when the weather changes, the water usually recedes without significant or lasting damage. If flash flooding makes its way into your home, however, a permanent solution is not merely waiting for it to subside. Indoors, if standing water seems to disappear, it is more likely the moisture migrated within your home. Residual moisture must be found and removed.
Professional Moisture Detection
Scotch Plains flood damage requires professional attention. When absorbed into structural components or trapped in building cavities, floodwaters continually promote the deterioration of building materials and can support harmful mold growth. Our Institute of Inspection, Cleaning and Restoration Certification (IICRC) training prepares us to use moisture probes and thermal imaging technology to discover the migration patterns of flooding. We record the data as a baseline during structural drying, ensuring our flood water removal efforts are successful.
Floodwater Is a Hazard
Floodwaters seek the path of least resistance, flowing through cracks and joints to collect beneath flooring, behind walls, and in other recesses. Because even clean water is corrosive, any lingering moisture is a problem. SERVPRO technicians know floodwater can contain chemicals and other pollutants and pathogens from organic debris or human and animal waste.
Moisture Release Strategies
The increased challenges presented by contaminants found in floodwater prompts SERVPRO to facilitate a broad range of fast and effective moisture release strategies. The more quickly we remove the tainted water, the better the outcome. We might choose to cut out sections of drywall to reach into cavities. Holes drilled into baseboards or mortar joints ventilate and allow for negative air pressure equipment to suction water out. Floor mats connected to extractors pull moisture from subfloors and joists.
Inhibiting Microbial Growth
Contaminants in floodwaters can include viruses, bacteria, and fungi. Before initiating structural drying, it is essential to treat the flood-affected areas with an EPA-registered antimicrobial agent. Structural drying requires air movement, and SERVPRO works to limit any spread of pathogens by completing the disinfectant step prior to positioning and operating moisture reduction equipment.
SERVPRO of Western Union County has well-qualified crews ready 24/7 to assist when flood damage attacks the integrity of your home. Contact us at (908) 791-9177 for a comprehensive assessment and to design and implement a recovery plan.
See more about Scotch Plains.